Our Pastor
Our Pastor
JAMES "JIM" WEILAND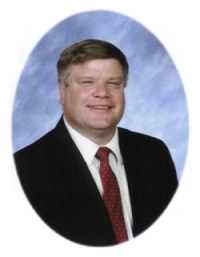 | | | | |
| --- | --- | --- | --- |
| • | Bachelor of Arts | Northwestern College | 1981 |
| | | | |
| • | Master of Divinity | Wisconsin Lutheran Seminary | 1985 |
| | | | |
| • | First Ev. Lutheran Church | Racine, WI | 1985-1996 |
| | | | |
| • | Christ Ev. Lutheran Church | Merrill, WI | 1996 - Present |
| | | | |
Jim was born in Milwaukee, Wisconsin, in 1959 to Don and Elaine Weiland. Recognizing the importance of Christian education, Jim's parents sent him to St. John's Lutheran School in Lannon for his elementary education and to Wisconsin Lutheran High School (WLHS) in Milwaukee for his secondary education. Jim graduated from WLHS in 1977.

From 1977 to 1981, Jim attended Northwestern College in Watertown, WI, where he earned his B.A. degree. While attending Northwestern, Jim met his future wife, Sue, daughter of former African missionaries Pastor Richard and Irene Mueller.

From 1981 to 1985, Jim attended Wisconsin Lutheran Seminary (WLS) in Mequon, WI, where he received his Master of Divinity degree. He spent his vicar* year at St. Matthew Ev. Lutheran Church in Benton Harbor, MI. Jim and Sue married in 1982.

Upon graduation from WLS, Jim received a divine call to serve First Evangelical Lutheran Church in Racine, WI. He was ordained into the public ministry on July 5, 1985, and served First Lutheran for 11 years alongside the Reverend Dr. Nathan Pope.

In 1996, the Lord led Jim to accept a divine call to Christ Ev. Lutheran Church in Merrill, WI, where he continues to serve God's people today.

Jim and Sue have five children: James, Brian, Becky, Christina and Laura.

*a candidate for ordained pastoral ministry, serving in a "vicariate" or internship, usually in the third year of seminary training.
PASTORS OF CHRIST EVANGELICAL LUTHERAN CHURCH
| | | | |
| --- | --- | --- | --- |
| • | Reverend Ralph Jones | | 1981 |
| | | | |
| • | Reverend Carl Siegler | Vacancy Pastor | 1982 |
| | | | |
| • | Reverend Adam Horneber | | 1982-1989 |
| | | | |
| • | Reverend Jeff Limpert | Vacancy Pastor | 1989 |
| | | | |
| • | Reverend Joel Lillo | | 1989-1995 |
| | | | |
| • | Reverend Burton Stensburg | Vacancy Pastor | 1995 |
| | | | |
| • | Reverend James Weiland | | 1996 - Present |
| | | | |